If you thought that Dustin Pedroia had few physical tools, you were correct. There's been speculation that the Sox have even fudged his vital statistics to compensate for his lack of size. It turns out that the speculators were spot on. Batter-up with Bruno posted a picture yesterday with Pedroia standing next to another vertically challenged individual.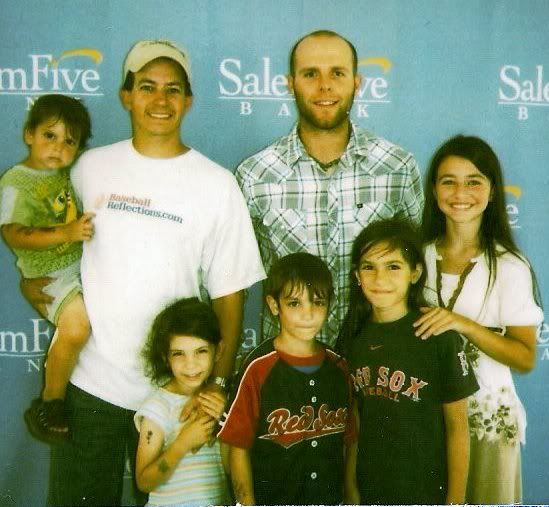 Via Batter-up with Bruno:
Peter Schiller of Baseball Reflections was able to meet the 2008 American League Most Valuable Player last Saturday at the Salem 5 in North Andover and got his picture taken along with five of his six kids.

Schiller informed me that he stands at 5'5 and 3/4 of an inch. And as you can see from the photo, Pedroia is not much taller.

It looks like he can't be taller than 5'7, but looks as if he's only 5'6-5'6 1/2.
Clearly, Pedroia doesn't measure up to his listed height of 5'9″.  It doesn't REALLY matter. But it is a little disheartening to all up-and-coming and former athletes that a guy who could be a jockey is making it in the majors. Roids?
RELATED POSTS